Inspiring New Mexicans to Reduce, Reuse, Recycle
Eldorado/285 Recycles is a volunteer non-profit group dedicated to improving recycling and waste reduction in the Eldorado-Hwy 285 corridor communities and adjacent areas.

---
​Our next meeting will take place on October 10th at 4PM via Zoom
Anyone not on the Eldorado/285 mailing list who wants to attend a VIRTUAL meeting should email
Taylor Ward at tward3212@gmail.com for an invitation.
​
Check out the Recycling News/Info page, updated regularly with new information:
​Updated 04.16.23

The greatest threat to our planet is the belief
​that someone else will save it
---
GOOD NEWS!
The unusual items collections in La Tienda Bldg A are now open. We hope you have been saving your dental items, disposable razors with packaging, pens, mechanical pencils, rubber bands, egg cartons, bottle tops and corks.
​The athletic shoe collection in Bldg B near the gym is open again as well.
Please note - at this time we cannot accept #5 plastics but these items can be recycled with your other plastics.
And w
hile we have your attention, we DO NOT accept batteries of any kind.
ALL non rechargeable batteries go in the trash
Buckman Road Recycling and Transfer Station (BuRRT) will take rechargeable batteries and Fluorescent bulbs for recycle
Batteries Plus 1609 St Michaels Dr, Santa Fe, NM 87505 will take rechargeable batteries for recycle
Light bulbs
BuRRT
CFLs can be dropped off on Fridays and Saturdays the HHW building at BuRRT between 8:00 a.m. – 4:45 p.m.
​
Home Depot
– CFLs ONLY, no tubes
952 Richards Avenue, Santa Fe, New Mexico (505) 424-9463
Lowe's Home Improvement
– CFLs ONLY, no tubes
3458 Zafarano Road, Santa Fe, New Mexico (505) 819-4080
---
---
The City, County and Eldorado/285 Recycles want to encourage you to turn food waste into a valuable soil amendment. If you live in the Eldorado/285 corridor, contact Eldorado/285 Recycles for information. We can explain this great concept and, if you are convinced, we can even install a compost system on your property. Contact Chris Harrell,
clharrell505@gmail.com
.
---
T
HE
P
LASTIC
D
ILEMMA, presented by Eldorado 285 Recycles members!
In April 2018 members of Eldorado/285 Recycles offered two community presentations about how the manufacture and distribution of all types of plastics has changed many aspects of daily living. The slides below provide information and suggestions about the multiple opportunities each one of us has to consider the appropriate use, reduction, reuse, and recycling of different types of plastics.
Download the slides to this presentation
---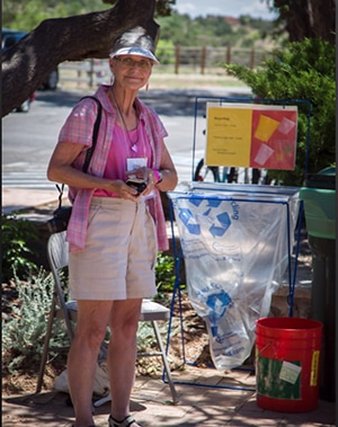 ---
(alt/option click on slideshow links to download)
---
| | |
| --- | --- |
| Recyclopedia Tips | Recycling Reference Guides |
---
​
Eldorado/285 Recycles maintains a drop off area at LaTienda Mall for unusual recyclable items. E/285R appreciates the generosity of LaTienda management to house these collections. All containers should be empty.
In Building A, you may recycle:
Dental products including toothpaste tubes, toothbrushes, floss containers.
​Corks.
Pens, pencils.
Rubber bands.
Razors.
Egg Cartons.
​Bottle Tops.​
In Building B: Athletic shoes:
​
Athletic shoe collection located in Bldg B near Eldorado Fitness Studio
Ink and toner cartridges accepted at
Eldorado Post and Parcel:
7 Caliente Rd Suite A-11, Santa Fe, NM 87508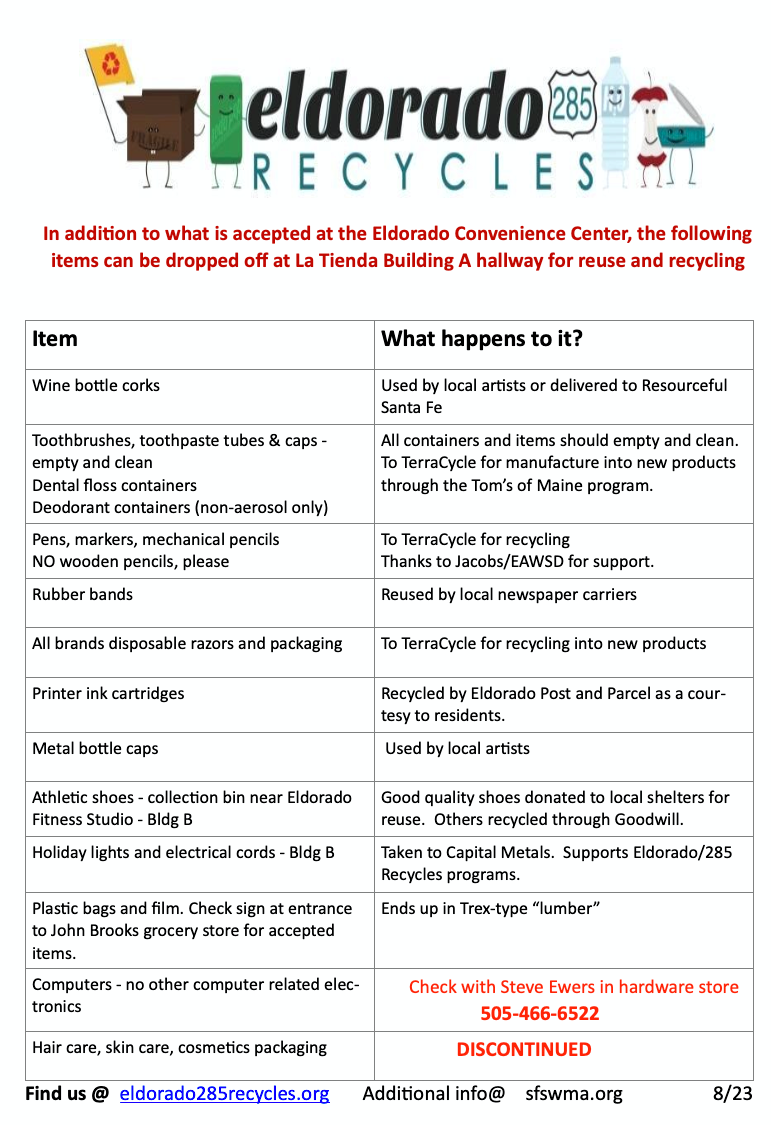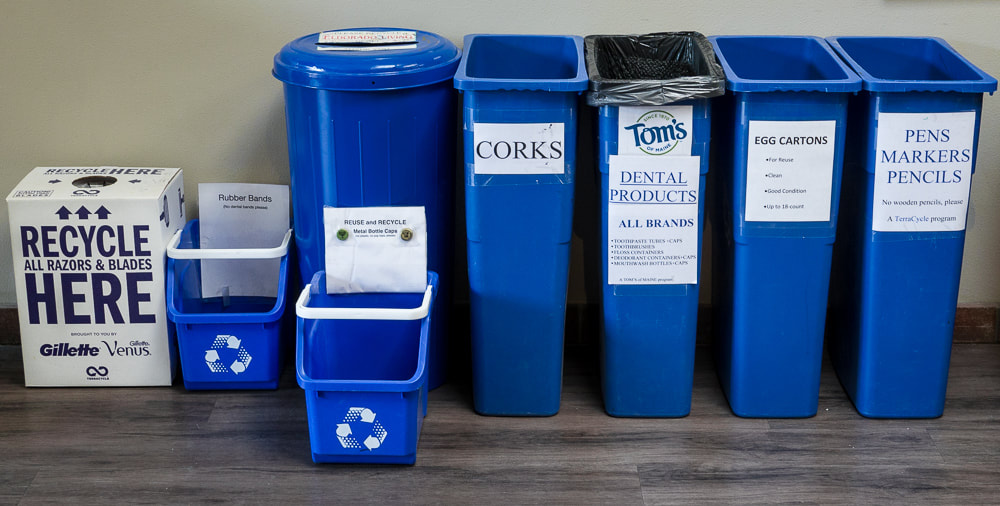 From left to right:
Bin for all disposable razors and blade cartridges
Bin for Rubber Bands
Bin for Stroll Magazine (this is not a bin run by Eldorado 285 Recycle group)
Bin (small) for pop tops (bottle and can tops)
Bin for Corks (NO synthetic corks please)
Bin for Dental and related products:
(toothbrushes, toothpaste tubes/caps, dental floss, deodorant containers
non aerosol only
)
Bin for Egg Cartons (all materials; 6-12-18 eggs only please)
Bin all types of Plastic writing instruments​ (thanks to Jacobs for supporting and funding this box) ​
​Our sincere thanks to Steve and Destiny of La Tienda for the free use of this space
Eldorado True Value Hardware is able to offer free recycling on some of your obsolete computer equipment. Currently we can accept computers, laptops, chargers, cell phones, and cords. We are NOT able to accept printers, televisions, monitors, or ink cartridges and toners. Cartridges and toners are recycled by Eldorado Post and Parcel.

---
---