Inspiring New Mexicans to Reduce, Reuse, Recycle
Eldorado/285 Recycles is a volunteer non-profit group dedicated to improving recycling and waste reduction in the Eldorado-Hwy 285 corridor communities and adjacent areas.
Good planets are hard to find
​​There is no Planet B!​
---
Unusual Items Collection StationFor items not accepted at the Eldorado Convenience Center
​​
In the hallway of
LaTienda, Building A.
Open doors to access the collection station. ​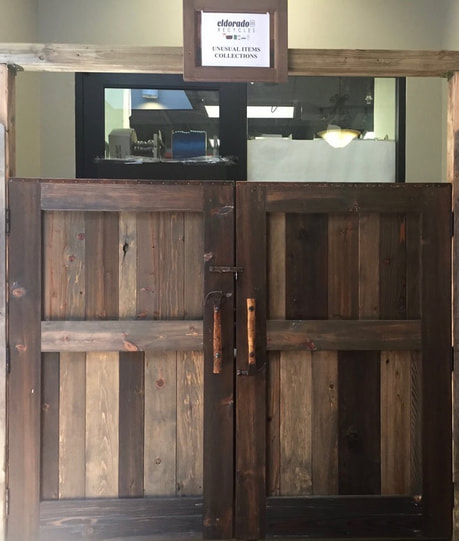 ​Athletic shoe collection located in Bldg B near Eldorado Fitness Studio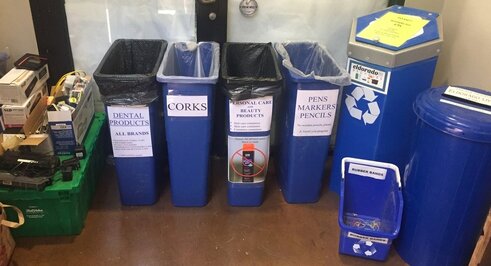 From left to right:
Computer & Printer products (NO TVs)
Bin for dental and related products:
(toothbrushes, toothpaste tubes/caps, dental floss, deodorant containers non aerosol only)
Bin for corks (NO plastic please)!
Bin for hair care, skin care and cosmetics:
(hair care & skin care packaging non aerosol only)
Bin for all types of #5 plastics
Bin all types of plastic writing instruments
Bin for rubber bands
Bin for Eldorado Living Magazine
​
Our sincere thanks to Steve and Destiny of La Tienda for the free use of this space
---
---
​Our next meeting is May 8th, 2018
Meeting Agenda
We meet from 4pm to 6pm on the 2nd Tues. of the month in the conference room of the
Eldorado Community Center
​1 Hacienda Loop
All are welcome
March 2018 Minutes
---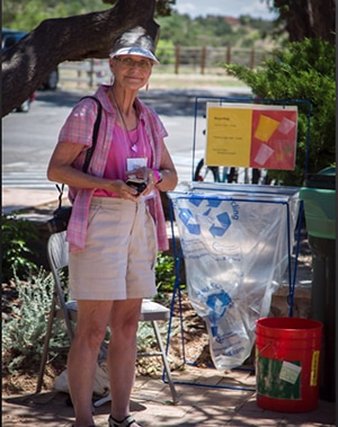 ---
---
| | |
| --- | --- |
| Recyclopedia Tips | Recycling Reference Guides |
---
---
Inside the Donation Bin
In January I took a look at the walk-in closet I share with my husband and felt guilt about the amount of clothing I'd accumulated. Although I do this every year, this year was different because I was still getting away with Capri's and T-shirts. Sweaters in my closet and heavy trousers had not been worn yet and I felt the need to donate. Acknowledging this need, it seemed easy to simply drop off some clothing in one of those handy green donation bins in town. What many of us don't know is how easily that can actually equate to throwing our clothing away.
Here are the facts about textile waste.
According to the US EPA textiles as a category, have one of the lowest recycling rates of any reusable material. And when recycled, only 10% of those textiles are considered re-usable. That means about 90% are either sent to landfills or flood markets in developing countries. Each year in America alone, 10.5 million tons of clothing are sent to a landfill. That's 31,250 tons everyday, 218,750 tons each week, and 875,000 tons each month. To clarify, that's a terrifying 62.5 million
pounds
of clothing a day headed to a landfill.
Donating to The Salvation Army and Goodwill may not be the most effective way to recycle our clothes. Although these charities stood as our nation's go-to textile recyclers since the early 20th century with bins for donations appearing as early as the 1940s, this system was established in a pre-consumerist America, before fast fashion reigned our wallets and before our current waste crisis came to exist.
Over the past decade, the amount of clothing Americans purchase has tripled 400%. And between 1999 and 2009, the volume of textile trash
rose by 40 percent
. Because of this, the bins that initially started out as an effective recycling method have transformed charities into dumps that accept clothes of varying condition in ever-increasing volumes.
While it will take some time to find a real solution to the entirety of the waste issue, we, as tenants of this environment, can do our part in alleviating the situation by collectively changing the direction in which we send our clothes. Instead of finding an easy fix to get rid of your old clothing, look for organizations that are honest in what they say they do with your donations. And only donate items that have potential for a second life – no holes, no stains, no tears. Be considerate of the next person wearing your clothing.
Donate to local homeless or battered women's shelters
. Donating to local organizations is safer because there is no middleman or complicated distribution process. You can always take the clothes to the front door and talk to someone directly.
Darling Magazine/Eldorado 285 Recycles