Inspiring New Mexicans to Reduce, Reuse, Recycle
Eldorado/285 Recycles is a volunteer non-profit group dedicated to improving recycling and waste reduction in the Eldorado-Hwy 285 corridor communities and adjacent areas.
Good planets are hard to find
​​There is no Planet B!​
---
Unusual Items Collection StationFor items not accepted at the Eldorado Convenience Center
​​
In the hallway of
LaTienda, Building A.
Open doors to access the collection station. ​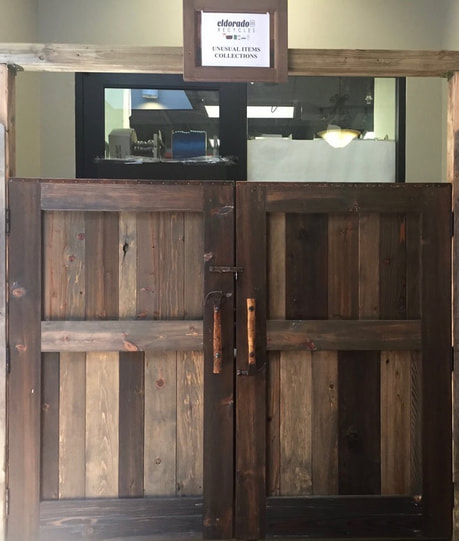 Not shown:
Gray bin for used athletic shoes located in Bldg B near Eldorado Gym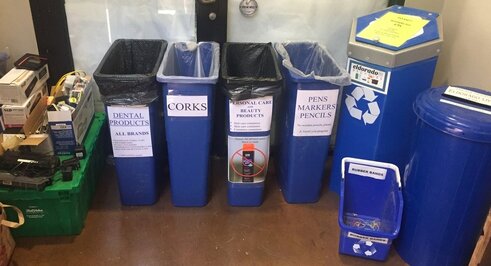 From left to right:
Computer & Printer products (NO TVs)
Bin for dental and related products:
(toothbrushes, toothpaste tubes/caps, dental floss, deodorant containers non aerosol only)
Bin for corks (NO plastic please)!
Bin for hair care, skin care and cosmetics:
(hair care & skin care packaging non aerosol only)
Bin for all types of #5 plastics
Bin all types of plastic writing instruments
Bin for rubber bands
Bin for Eldorado Living Magazine

​Our sincere thanks to Steve and Destiny of La Tienda for the free use of this space
---
---
​Our next meeting is November 14th, 2017
Meeting Agenda
We meet from 4pm to 6pm on the 2nd Tues. of the month in the conference room of the
Eldorado Community Center
​1 Hacienda Loop
All are welcome
October 2017 Minutes
---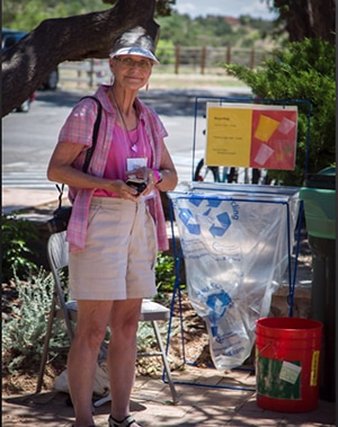 ---
---
| | |
| --- | --- |
| Recyclopedia Tips | Recycling Reference Guides |
---
Tip of the month:
Did you know?

Make your neighborhood event zero waste!

Whether you are having a barbecue with a few neighbors, or you are hosting a family reunion or neighborhood block party – every bit of waste reduction and recycling at your event will make an impact. With some planning and communication with your guests ahead of time, these simple tips can help you reduce waste at your event.

Reduce
Avoid individually wrapped single serving items. You can serve bite-size or finger foods that require no utensils or choose entrees that can be served in large containers like pasta in a large bowl or a platter of sub sandwiches.

Plan ahead to avoid wasting food. Accurately estimate attendance when preparing food or placing orders for catering.

Reuse
Provide reusable items, or encourage participants to bring their own. Silverware, glasses or mugs, and plates can be washed and reused. Cloth napkins and tablecloths can be used instead of paper. Serve beverages in glasses rather than single-serving, one-use bottles or cans.

Recycle
Use easily recyclable items. Aluminum cans and glass bottles, and most plastic items are recyclable in Santa Fe, but avoid items made of plastic film and expanded polystyrene that are not recyclable in our area.

Make Dirt, Not Waste! Compost at your event.
Compost your food waste. If you have a backyard compost bin, this is an easy way to reduce waste. You can compost food waste like fruit and vegetable peelings, stale bread and pasta and even some non-recyclable paper products like napkins or paper towels. Meat, dairy and greasy foods should not be put in a backyard bin.

If you don't compost, consider starting now, or talk to a neighbor who may be able to collect the food waste and compost in their bin. Go to eldorado285recycles.org for composting resources and info on getting your own straw bale worm compost pile.

Compostable bio-based cups, plates and serviceware are now available to replace disposable plastic products made from petroleum, but these are not compostable except in commercial composting facilities so contact Reunity Resources or Paynes' Organic Soils Yard to see if they will accept your non-food compostables.

Communicate with your guests at the event and monitor your efforts.
Provide containers for recycling and compost and trash, if needed. Make sure that no trash container stands alone. Be sure they are next to clearly labeled recycling and composting containers so that it is easy for people to make the choice to recycle and compost.

Clearly label containers at all locations. Pictures, lists and symbols in combination are most effective.

Place containers in obvious places where they will be visible and accessible. Containers near eating areas and exits often do the trick.

Announce your waste reduction efforts to your guests. Recycling, composting and waste reduction practices vary from city to city, so briefly explain what your guests can compost and recycle at your event.

Monitor your recycling and trash containers. Some guests will inevitably misuse the containers by placing trash in recycling containers or recycling in trash containers. Ask kids at the event to help with this – they are great at getting others to recycle and compost.