ELDORADO CONVENIENCE CENTER
The Eldorado Convenience Center (ECC) is a facility of the Santa Fe County Public Works Department. It is located along US 285, approximately two miles south of the Eldorado Vista Grande entrance and serves the Hwy 285 corridor, Lamy, Galisteo and the Glorieta area.
Hours: Wednesday – Sunday, 8 am—5 pm
ECC accepts trash, recyclables and maintains a ReUse area for household goods that might be passed on for use or repair.
Some items require payment. Consult this link for fee information.
ECC Fees Made Simple: What's Free?, What's Not & How Much?
Following are the requirements of each area:Trash
Trash requires a permit or bag tag.Open loads must be covered to prevent littering.
Recyclables
There is no charge to dispose of recyclables at county convenience centers. There are
three containers
for corrugated
cardboard
,
glass
and
mixed recyclables
. These items are taken to the Buckman Road Recycling and Transfer Station (BuRRT) then shipped to Friedman Recycling in Albuquerque, which processes and markets the commodities.
Materials accepted
Materials should be empty and dry. See
County Guide.
1)
Corrugated Cardboard Bin
- flattened cardboard.
2)
Glass bin
– Glass is crushed at BuRRT and is available free to the public, sold to buyers, or used as landfill liner. No plate glass, drinking glass, lightbulbs, Pyrex, ceramics.
3)
Mixed materials bin
Cans – aluminum and steel.
Cartons – food and beverage cartons, such as milk, juice, soup containers, ALL books, boxes - such as cereal, cracker, tissue.
Small pieces of paper including shredded paper should be put in clear plastic bags.These are the only plastic bags accepted in the Recycle bins!
Plastic containers – all accepted.​
Other materials accepted at no charge adjacent to the recycling bins, in the ReUse area (See below)
Used motor oil & antifreeze.
Fluorescent bulbs (incandescent bulbs go in the trash).
Lithium batteries including rechargeable, cell phone, button cell, and hearing aid batteries. (alkaline batteries go in the trash).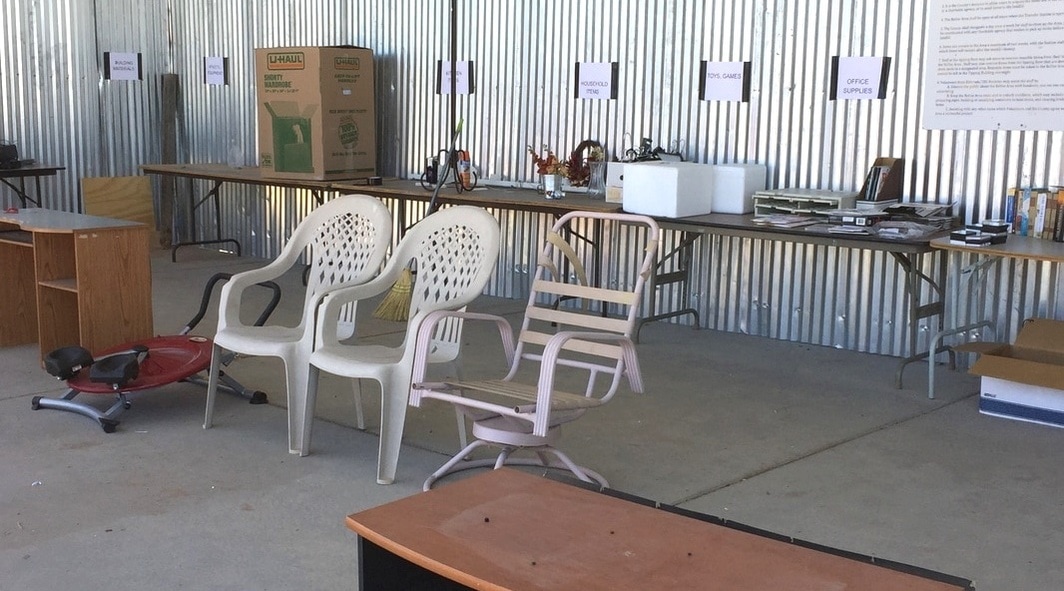 ReUSE area
Adjacent to the recycling bins is the ReUse Area,
which provides an
opportunity for residents and artists to make use of articles dropped off
, lessening the burden on the landfill. Items should be usable, but may need some repair. There is an electric plug to test small appliances.
​
Materials accepted at ReUse area
Household items.
Furniture (not stuffed).
Functioning TVs.
Art Works.
Small Appliances.
Sporting Goods.
Building materials.
Tools & Workshop Items.
Gardening Tools.
Office Supplies.
Materials NOT accepted at ReUse area
Clothing.
Electronics.
Liquids of any kind.
Mattresses.
Hazardous waste, including pesticides, weed killers, paints, solvents, corrosives.
NO hazardous waste
and electronic waste at this site
Hazardous waste, computers and peripherals, nonworking TVs may be disposed of at BuRRT, Friday and Saturday, 8 a.m. - 4:45 p.m. There is a small charge based on weight.
More information
. ​
Materials accepted at the waste area
Green waste – no weeds, cholla.
Tires.
Ashes (cold only).
Metals.​
Where is BuRRT?
The
Buckman Road Recycling and Transfer Station
is located in the City of Santa Fe on Buckman Road.
---
PRIVATE WASTE HAULER CUSTOMERS
By County
ordinance
trash haulers in Eldorado and the adjacent area must provide both trash and recycling carts. Recyclables are picked up at least every other week.
The information on materials accepted is the same as for the Convenience Centers, with the exception of glass.
Glass
is
not accepted in recycling carts
as it is not processed by Friedman.Private trash customers may recycle glass at a Convenience Center at no charge.Waste Management is the largest private hauler in this area.Their local phone number is 505-473-0982. ​
---
LaTIENDA RECYCLING
See photos on
home page
.
Eldorado/285 Recycles maintains a drop off area at LaTienda Mall for unusual recyclable items. E/285R appreciates the generosity of LaTienda management to house these collections. All containers should be empty.
In Building A, you may recycle:
#5 plastics.
Dental products including toothpaste tubes, toothbrushes, floss containers.
Cosmetic containers including empty makeup, skin care containers.
Corks.
Pens, pencils.
Rubber bands.
In Building B:
Click here for a printable
guide
which explains how these items are recycled.
PRODUCTS ACCEPTED FOR RECYCLING AT SANTA FE MERCHANTS,AGENCIES
Metal scrap
Donation centers
If your item is still in working and/or good condition, you might dispose of it at a Donation Center.
Green drop-off box at LaTienda.
Also takes all types of
working
electronics.
Electronics, computers & peripherals
Other
​Eldorado Supermart, Agora, 7 Avenida Vista Grande, clean plastic bags, located on left at entry.
Spin Doc, next to Cafe Fina, 466-4181; bicycles and parts donated to Chain Breaker Bicycle Cooperative.
Vista Grande Public Library, 14 Avenida Torreon; books, CDs;check for donations days, times; 466-7323.
​
FREQUENTLY ASKED QUESTIONSQ.
Does all this stuff I recycle really get used or does it all just wind up in the landfill?
A.
Santa Fe County hauls the filled dumpsters to the BuRRT facility. From BuRRT they are trucked to Friedman Recycling in Albuquerque, where the materials are sorted, baled, and marketed to various recycling plants in the U.S. and abroad. A small percentage is rejected due to contamination and goes to the landfill. That is why following the rules is important.
Q.
What if I recycle only some of the time? Does it really make a difference?
A.
Recycling even one aluminum can every day for a year saves enough energy needed to run a TV four hours a day for six months. Of course, recycling should be an everyday habit.
Q.
How does the ReUse Area work?
A.
This area is used to drop off usable items instead of sending them to the landfill. To prevent the area becoming a free dump site, you must be a paying customer (by showing your solid waste permit or bag tag).
Q.
If I use the ECC, do I have to recycle?
A.
Yes.
County Solid Waste
Ordinance 2014-10
requires convenience center patrons to place recyclable items in the appropriate container (not on the dumping floor) and to put non-recyclables (trash) on the dumping floor (and not in recycling containers!). Violators are subject first to citations, and if repeated, to fines.
Q.
What should I do with things like rags, textiles that are no longer usable?
A.
Rags are an important commodity worldwide.Goodwill and Savers market rags. Just note that the bundle is "
RAGS
."
"According to the Council for Textile Recycling, the average U.S. citizen throws away 70 pounds of clothing and other textiles annually. Only 15% is donated or recycled. That amounts to about 21 billion pounds of textile waste being landfilled every year."
Read more
.
--Neal Denton, Recycling Program Coordinator, New Mexico Environment Department
​
Q.
How should I dispose of smoke alarms?
A.
Return to manufacturer.
Detailed information.
Smoke alarms have components that should not be in the landfill.