Who We Are
We are a not-for-profit, all-volunteer group of dedicated recyclers in unincorporated Santa Fe County.

What We Do
HANDS-ON RECYCLING
● We collect and recycle more than a ton each year of a wide range of both conventional and unusual items - in drop-off containers at La Tiendas Building A - #5 plastics; bottle corks; plastic writing instruments; rubber bands; dental care items,and beauty and skin care containers.
Athletic shoes collected in Bldg B See La Tienda recycling guide
WE GIVE A HELPING HAND TO BUSINESSES WHO
RECYCLE
● We assist our shopping malls in providing comprehensive recycling for their tenants.
● We obtained permission from the NM Environment Department for an extension of the on-site storage of coffee grounds from one to seven days, making more feasible the donation of coffee grounds to local composters, and reducing the businesses' waste disposal costs.
WE PROVIDE A RECYCLING / REUSE / COMPOSTING RESOURCE FOR THE COMMUNITY
● Recycling Guides on this site and other materials to make recycling, reuse, and composting understandable and specific to our area.
● We answer recycling and composting queries from our neighbors. We assist them with information about the County Convenience Center and Waste Management, Inc., our curbside solid waste/recycling collection contractor.
● We install backyard straw-bale vermicomposting systems at Eldorado area homes. See our
composting page
for information.
● We remove trash twice a year from an adopted Eldorado road.
WE ADVOCATE FOR RECYCLING / REUSE / COMPOSTING BEFORE GOVERNMENT AGENCIES
● We work closely with the Santa Fe County Public Works Department to improve information, signage, and accessibility at its
Eldorado Convenience Center;
and we promote its no charge recycling.
● We persuaded the department to reopen the long-closed ReUse Area in order divert usable and repairable items from the landfill.
● We continue to be the "voice for recycling" in the Santa Fe area at public hearings and meetings dealing with solid waste and recycling, extending our work well beyond our local area.
Questions? Need Help? Want To Volunteer?
Contact us at:
eldorado285recycles@mail.com
---
How We Are Governed:
---
Eldorado/285 Recycle Events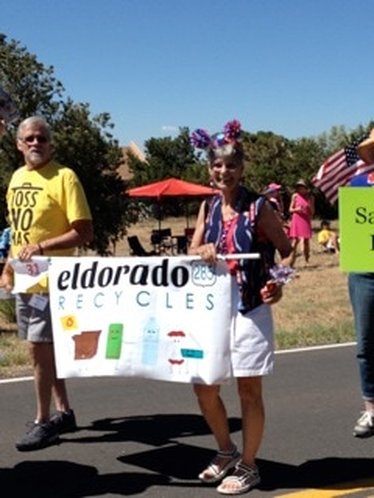 ---
---
Links We Like: